FROM MY PROVISIONAL HOUSE TO YOURS

INTRODUCTION
On December 18, 2001, I went to Buenos Aires, the capital of Argentina, to visit my nephew who lives in the center of the city. When I arrived, public anxiety was already evident, due to the rumors that the banking system was falling to pieces and the President would resign. I took my camera and I went down to the street.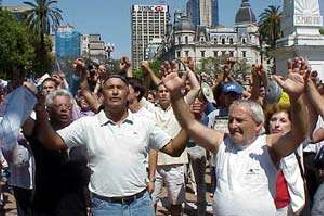 I soon happened upon the people massing in the streets, and the first protests against bank closures.

In some places, people approached supermarkets to request food. The hunger, the insecurity and the frustration were strong forces. The climate of terror and violence suddenly increased.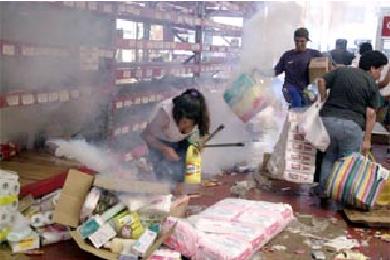 As a result, people began to assault the supermarkets and then general looting started.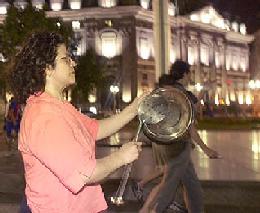 People expressed their outrage by hitting kitchen pots and pans.
The police swiftly appeared in an effort to calm the turmoil.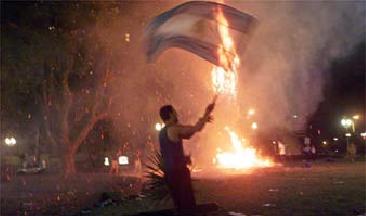 As night fell, the action continued. In the meantime, the President had issued orders to repress the popular movement.

This moving photo was taken at midnight, when the "carros-bomba" attempted to disperse the demonstrators with water cannons.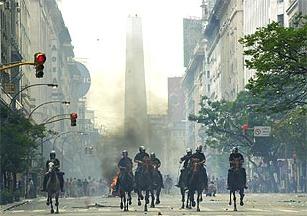 The following day the repression continued. There were 29 deaths due to incidents with police.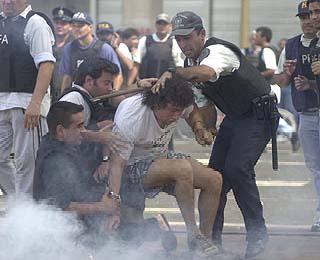 Pictured here is an example of the pattern of violence with that the police used to "calm the spirits".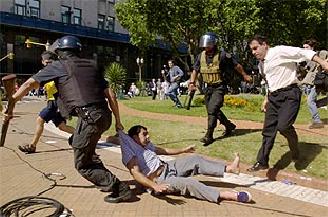 More of the same.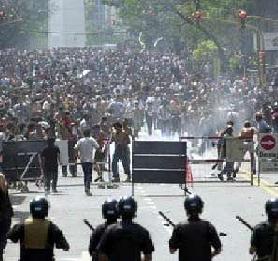 Demonstrators meet to protest in front of the Congress of the Argentine Nation, the Legislative Branch.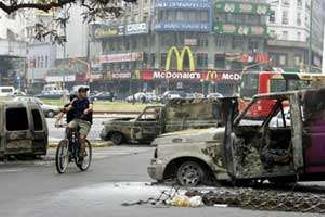 A view of the destruction: Near the bottom, "MacDollar" sits like a cold witness of the consequences of action of exploitation of the big financial North American corporations.
From above, the International Monetary System that, year after year, skims off the 20% of the gross national product to pay the interest of external debt. Argentina, like other Latin American countries, has already paid the debt more than 10 fold, from the payment of interest alone, however, the debt grows.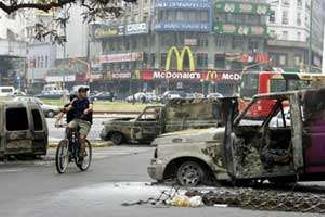 Night view of the center of Buenos Aires.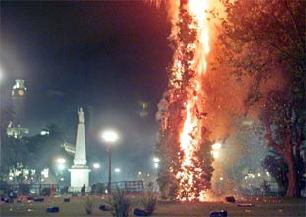 Finally, the people triumph in their protest: President De La Rúa, who sponsored the slaughter of civilians, and surrendered the resources of country to big financial corporations, resigned.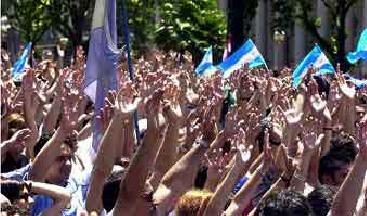 Clemente Padín: C. de Correos Central 1211, 11000 Montevideo, URUGUAY
clepadin@adinet.com.uy