who am i? | work in process | writing as therapy | depression | reviews | publications | links | resources |
Black Winds Press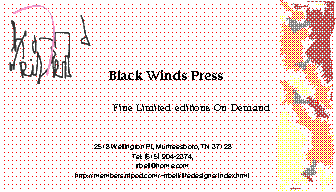 Original art work and writing done the spirit of an artistic engagement with a physical or non-physical difficulty. (functional gastrointestinal disorders, depression,). See also similar efforts and resources.
Limited editions of web work and visual poetry. This will include work handmade and printed on demand. These are not copies, but signed works done in the spirit of the original page. Prices vary but run around $25 and are done on request.
Series I
Number One Handwriting
, Thomas Bell, 1997-2000 $1.79
Number Two Comix
, Thomas BELL, 1996-2000 $7.16
Theoretical, critical, or bibliographical work on these issues, particularly the 'madness' of the artist (Bada Shanren is a good example here).